HSM Small Group Essentials
Spring 2021 Small Group Lessons:
2020-2021 School
Year Overview: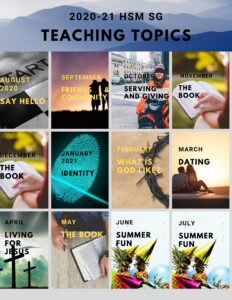 All-In Events
HSM One Night 
HSM's once a month REACH event (4th Sunday of the month) designed to be a fun place for students from all campuses to hang and invite their friends. We need awesome volunteers like you to help us host these events, come serve and encourage your students to come and invite their friends too!
HSM Summer Camp (July 12-15)
HopeHSM Link Tree
Our HopeHSM Link Tree contains links for Zoom Small Group Registration. For safety reasons, we can not post direct Zoom links on our website, so after you register please either bookmark the Zoom link or add it to your calendar to find it in future weeks.
The Parent Hub
TheParentHub.net is Hope's Resource page for parents that includes what all Family Ministry Small Groups are discussing as well as loads of other helpful parent resources.
Manage Your Group