MSM Small Group Essentials
Fall 2022 – Small Group Lessons
Quick Links
Upcoming All-In Events
We need amazing volunteers like yourself to help us make these environments all they can be for students:
MSM Small Group Camp – Aug 26-28

Small Group Camp kicks off our Small Groups this school year, now for rising 6-8th graders, and encourages them to grow closer to Jesus.

MSM Invasion – Oct 7

Invasion is our all-night lockin at Adventure Landing. It's a reach event, meaning we want our students to invite their friends who don't go to a church to come, have fun, and know they belong.
HopeMSM Link Tree                   
Our HopeMSM Link Tree contains links for MSM YouTube, MSM Page, and other relevent links.
Squad Nights
Squad Nights are designed to be an EASY place to show up & BELONG. Jesus calls us to go into the world and make disciples, that happens when we REACH the community. Reach environments are designed to be FUN experiences for students to know they belong, are loved by God, and invite their friends.
Every third Tuesday from 6:30-8pm in various outdoor locations around the Triangle.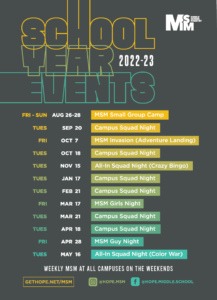 The Parent Hub
TheParentHub.net is Hope's Resource page for parents that includes what all Family Ministry Small Groups are discussing as well as loads of other helpful parent resources.
---
More Resources